This has been a busy year so far. I planted a garden, went on many hikes, watched Laura Marling perform, saw a parade, and attended a lobster and rose tasting, where I eavesdropped on rich people arguing about servicing their Audis. I learned that an Audi oil change costs $100, but the service agreement is $700, so if you're only going to keep the car for three years, it's better to pay for the oil change out of pocket. However, the other rich people argued, what if your Audi is a lemon? Then you could be out thousands. What then, huh?
I also took several small trips. I went to Monterey, visited the snow in Tahoe, and wrote in a cabin in the redwoods. But the best thing we did was take a spontaneous trip to Sequoia National Park.
I mistakenly thought that sequoias looked like coastal redwoods. Not at all. They are orange, for one thing. Their bark is flat, scratchy, and brittle and spongy at the same time. Imagine a bunch of giant orange trees on top of a huge granite mountain, and that's Sequoia National Park. Pictures:


Kyle by sequoias

Looking up at one of the trees.

We came upon this cute family holding hands around the tree.

General Sherman, one of the biggest trees in the world.

Ranger holding up a pine cone
We also climbed to the top of this:
That's Morro Rock. There was a staircase going up to the top. It looked like this: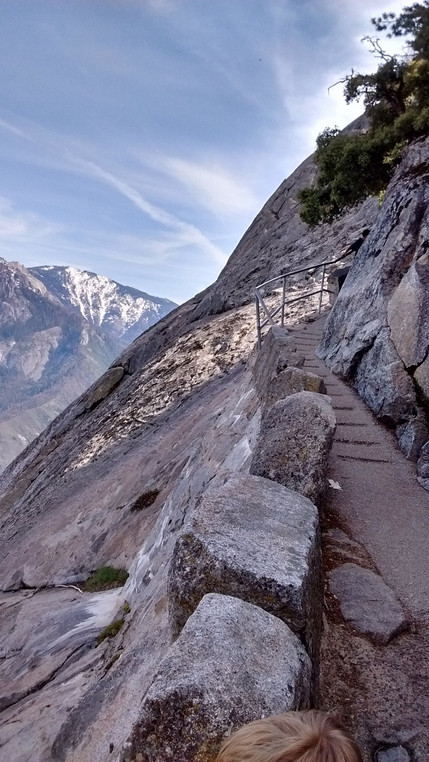 Here are some views from the top:
Gideon also climbed the rock. I was proud of him. Here we are as a family, at the top. This was right at the moment Gideon started acting squirrely and scared us by flopping around.
No one died.

-->