In September, I attended a writing residency at Wildacres Retreat in the Blue Ridge Mountains. It was a terrific experience. I can't say enough about Wildacres and the people who run it. They help all kinds of artists by giving them the gift of time and peace to work, which is valuable and important work.
For my residency, I got to stay in a cabin and write for a week. There was no Internet, cell phone, or distractions. I wasn't sure if I would like that. I imagined being lonely and restless, but I was delighted to find that I'm a natural hermit. In fact, half the time I didn't even leave the cabin to go to meals. (Don't worry–I stopped at a grocery store on the way there.)
Here's the outside of the cabin:
The inside had a full kitchen, a king-sized bed, and a table where I spent most of my time working:
I also worked on the deck until I figured out that North Carolina bugs really like to bite me.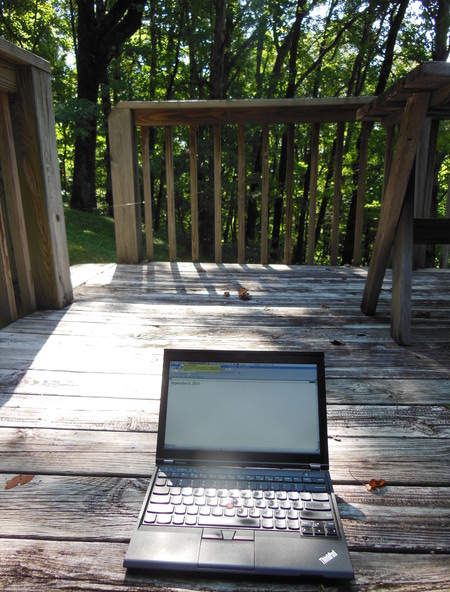 It was inspiring to be in a forest, especially since my book is set in a forest. I saw so many animals while there. I saw a bear, first of all. (I was in my car.) I saw a doe and a fawn. I saw tiny owls, butterflies that looked like fall leaves, lizards with blue tails, and the strangest spider ever, the Arrowshaped Micrathena.
The Blue Ridge Mountains is one of the most beautiful places in the United States and I plan to keep going back. While at Wildacre, I took tons of pictures of the Blue Ridge Parkway, all while singing this song to myself.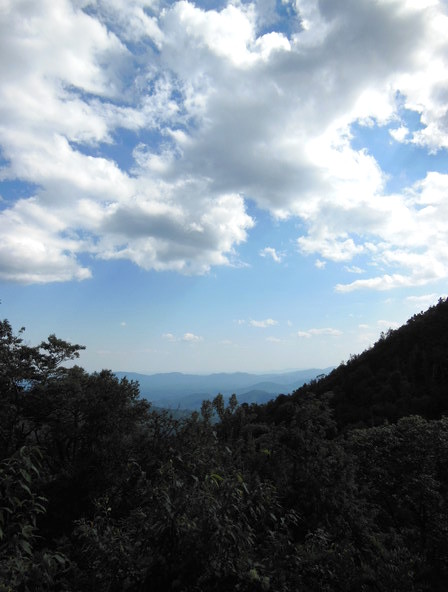 -->